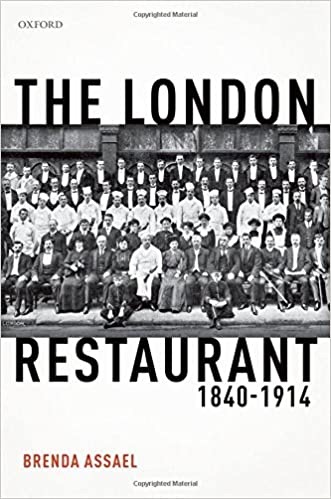 This is the first sustained scholarly treatment of the restaurant in the Victorian and Edwardian eras. My book encompasses, not just leisured and affluent evening diners in the West End, but also dock workers grabbing breakfast in coffee houses, City clerks desperately perambulating the Square Mile in search of a meal during their lunch break, and employees in the theatre in search of a late-night supper after curtain call. Londoners consumed their meals in interior spaces that ranged from lavishly decorated dining rooms in the West End, through the self-consciously modern amenities of the refreshment room chains of Spiers and Pond or Lyons, to the myriad modest eating houses, of which little descriptive record survives. Predating the recent fad for the pop-up street cart, many Victorian and Edwardian Londoners ate adjacent to shop windows, street carts and mobile kitchens from which they purchased their food.
The story of the London restaurant between the 1840s and the First World War allows us to better understand broader social and cultural changes, notably the expansion of commercial leisure, the increasing significance of the service sector, the introduction of technology, the democratization of the public sphere, changing gender roles, and the impact of immigration. In particular, The London Restaurant introduces the notion of 'gastro-cosmopolitanism' to highlight the existence of a heterogenous and transnational milieu in the capital at this time, which confounds notions that culinary multiculturalism has been a product of the period since 1945. The Victorian and Edwardian restaurant also created new forms of public sociability in which female diners (whether accompanied or unchaperoned) played an important part. However, women also feature in my book, not just as consumers, but as a critical part of the service sector in the guise of business owners and waiting staff. The restaurant was the subject of debates which seem remarkably topical today, notably the sector's reliance on casual (often international) workers, the relationship between food and public health, and conflicts between commercial prerogatives and state imperatives.
The London Restaurant considers the restaurant as a business and a place of employment, as well as an important site for the emergence of new forms of urban experience and identity. It also allows us access to Victorian Londoners who have often been overlooked in existing social histories: the female dining room proprietor, the German waiter, the female Greek pastry cook, for example. While focused on London, it illustrates the complex ways in which cultural and commercial forces were intertwined in modern Britain, and demonstrates the rewards of writing histories which recognize the interplay between broad, global forces and highly localized spaces.
Further links:
My historically-inflected piece on COVID-19 and the London Restaurant can be found on the OUP blog site advertising the paperback edition of my book: https://blog.oup.com/2022/10/covid-19-and-the-london-restaurant-a-victorian-perspective/
A discussion of waiters can be found in a topical piece that I wrote for the OUP blog site when my book first appeared in hard cover: https://blog.oup.com/2018/10/tipping-19th-and-20th-century-london/
I also wrote an article on the retired army officer turned restaurant reviewer, Nathaniel Newnham-Davis, that appears on the Branch Collective (Britain, Representation and Nineteenth-century History) website: https://www.branchcollective.org/?ps_articles=brenda-assael-on-dinners-and-diners-and-restaurant-culture-in-late-nineteenth-century-london/
Reviews:
"[The book is] a painstaking exploration of all aspects of the business. She [Assael] demonstrates the wide range of eating establishments throughout the period, the commercial issues involved in running them, the lives of the waiting staff, health and safety concerns, and what she terms "gastro-cosmopolitanism", referring to the increasingly diverse cuisines available. Records of all but the grandest restaurants are, Assael admits, next to non-existent, but she works hard to find evidence in such ephemera as menus and advertisements." - Jane Darcy, Times Literary Supplement
"One of the most important and innovative aspects of this book lies in its discussion of the role of women ... Assael's narrative places women at the centre of the Victorian restaurant. Assael has produced a key book on dining out in London, which covers a variety of themes. She argues that the Victorian period was the turning-point in the development of this central establishment in modern urban life, reflecting population increase, the growth of leisure time and globalisation. Many of the themes which she tackles remain pertinent today, whether hygiene and health, the pay of waiters, the restaurant as a symbol of cosmopolitanism, or the precariousness of the restaurant business itself." - Panikos Panayi, De Montfort University, English Historical Review
"The London Restaurant provides a refreshingly comprehensive portrait ... Assael's well-documented history provides a vital corrective to the overemphasis on cultural experiences that has characterized much restaurant history, reminding us that liberal economic and commercial institutions such as the restaurant often provided desirable work, entrepreneurial opportunity, and — through health regulations and the marketplace's longing for diverse experiences — a better dinner for many consumers." - Andrew P. Haley, University of Southern Mississippi, Journal of Modern History
"full of rich and original research" - Bee Wilson, London Review of Books
"[F]ascinating but also pathbreaking ... Assael offers a remarkable overview of the place of the restaurant in city life ... the book strikes a fine balance between analysis and illustrative example and is rich in memorable vignettes ... [A]n excellent book that I cannot recommend highly enough. Rebecca Earle, University of Warwick, Victorian Studies